Duncan Gilmour explains how Finlays became a key player in response to the ever-increasing demand for tea.
Taking Tea Global
Finlays' early involvement with China tea appears to have ended by the time of Kirkman Finlay's death in 1842. As the son of the eponymous founder, Kirkman had been instrumental in breaking the monopoly of the East India Company and opening up trade with both India and China. Finlays may have given up on China but not so John Swire & Sons, its current shareholder. During the second half of the 19th century Swires traded tea at various times between China, the UK, America, and Australia. In addition, it established a Tea Improvement Company in Fuzhou in the late 1890s to machine process local teas. The tea ventures were not conspicuously successful and paled in comparison to some of Swire's other businesses such as shipping, namely China Navigation, which continues to this day.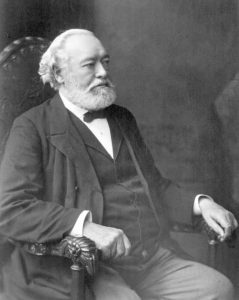 Thirty years after Kirkman's death, the Company took its first tentative steps into the rapidly growing Indian tea business thanks to the vision of John Muir. Muir was made a junior partner in 1861 before becoming the sole proprietary partner in 1883. He was instrumental in opening a branch in Calcutta (Kolkata) in 1870, initially centred on the disposal of piece goods. Styled as Finlay Muir & Co., the branch soon added agencies for a range of British companies either exporting to, or with businesses in, India. 1872 saw Finlay Muir's first recorded involvement with Indian tea when 80 chests were shipped to New York. In the following year the branch became agents for the Nonoi and Sootea tea farms. By 1881 the Company had amassed 16 agencies including the Chubwa Company, one of whose farms was, and still is, the oldest in India. At this time most tea farms were owned and or managed by a band of hardy pioneers. In the case of Sootea, one of its proprietors lived in the jungle for three years after being outlawed by the Government and before leaving India with a train of ten children and two ayahs!
Scaling up the production of tea
John Muir saw the opportunity to cultivate tea on a large scale and had the finance necessary to put his ideas into practice Working with a number of talented agriculturists and traders including P. R .Buchanan and Thomas McMeekin, whose businesses were eventually to become part of the Group, John Muir floated two large tea companies on the Glasgow Stock Exchange in 1882, The North Sylhet and The South Sylhet tea companies. In addition to developing tea in Sylhet, in what is now Bangladesh, over the next 15 years these companies acquired interests in other farms in Assam, the Dooars, Darjeeling, North Travancore and Ceylon. In 1896 and 1897 Muir rationalised the Company's now significant tea interests by grouping them into what were effectively four holdings companies with shares being offered to the public as part of a stock exchange listing. These four companies were to form the core of the Group's plantation business until 1976. In addition to having significant shareholdings, Finlays controlled and managed these, and other tea interests, both in India and the UK, by way of agency and secretarial agreements. One company, The Anglo-American Direct Tea Trading Co., Limited had as one of its objects, "bringing the consumer into direct contact with the producer". An early example of the Group's current "bush to cup" philosophy, this was to be achieved by the establishment of distribution businesses in each of the world's principal tea drinking countries. This was only partially successful in North America where a tea trading company was set up in Canada which was the forerunner of the current business in Morristown, New Jersey.
Finlay Muir began buying and trading tea in 1874 and over the years this became, as it still is, a staple part of the Group's business. Carried out from a worldwide network of offices, this allowed Finlays to become one of the largest traders of tea in the World. By the end of the nineteenth century the British Empire was the world's biggest producer of tea. India was responsible for 200 Million lbs, 85% of which went to the UK, far outstripping exports from China; over 500,000 acres of tea had been planted in just over 40 years. In 1851, when all tea was still coming from China, tea consumption in Britain was less than 2lb per head but by the start of the twentieth century, helped by cheaper imports from the Indian sub-continent, this had risen to over 6lb a head. The great British tea gardens which had done much to popularise tea in the eighteenth century had all disappeared by the time London's famous Vauxhall Gardens finally closed in 1859. Tea remained available in the many coffee houses but from the 1880s these were beginning to give way to new dedicated tea rooms. Lyons opened the first of many tea shops in London in 1894 having previously provided catering for big public events including the Glasgow International Exhibition of 1888 of which Muir was Vice Chairman and a significant patron.
1896 was a busy year for Muir as he also provided finance to help establish George Payne & Co Limited (now Finlay Beverages Limited), a company set up to pack tea and coffee. In 1903 Paynes began packing tea for Sainsbury's, a contract which Finlay Beverages still holds as one of their oldest suppliers. When Muir died in 1903 he had been ennobled as Sir John Muir and had built Finlays into one of the pre-eminent tea businesses in the world.
The 20th Century
The African Highlands Produce Company (now James Finlay (Kenya)) was set up in 1925 to acquire 23,000 acres of land in Kericho, Kenya. This began a pioneering project to develop a large-scale tea plantation business which, together with a similar exercise being undertaken by Brooke Bond (Unilever), formed the basis for the Kenyan tea industry we know today.
Tea is a cyclical business often at the mercy of factors which are hard, if not impossible, to control. Throughout the twentieth century the industry experienced periods of "boom and bust". During the years of depression between the two world wars, Finlays were at the forefront of schemes designed to regulate over production as a way of ensuring the industry's survival. By 1949 Finlays was the largest tea plantation business in the world managing over 100,000 acres in India alone.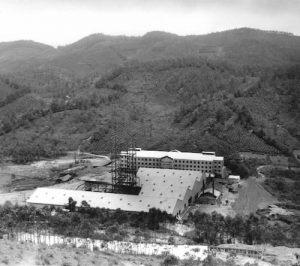 Following a rationalisation in 1976, political considerations led to the Company selling its Indian interests in 1982 with the Bangladesh farms being sold in 2005. In between times Finlays had a short foray in Uganda where the Company rejuvenated four neglected tea farms, collectively known as Rwenzori Highlands. Having disposed of its Sri Lankan farms in 1972 ahead of nationalisation, when the tea industry was returned to private ownership in 1992, the Company agreed to manage Hapugastenne Plantations in which it subsequently acquired an equity stake along with a similar holding in Udapussellawa Plantations. In 2015 Finlays added another plantation business to its portfolio with the acquisition of Casa Fuentes in Argentina, for many years a supplier of tea to the Tres Montes extracts plant in Chile, the products from which the Company has sole distribution rights.
The history of [instant] tea at Finlays
In 1954 Finlays first became interested in the manufacture of instant tea, now known as tea extract, direct from green leaf and decided to investigate the then unknown possibilities of this entirely new approach to drinking tea. A pilot plant was set up on one of the Company's farms in the Dooars, North India. After several years of experimental work, the project was moved to Kenya in 1957 where leaf was available all year round. Eventually in 1962 it was decided to build a production sized plant in South India in partnership with Tatas. The factory, which was situated at Nullatanni, was commissioned in 1964. By 1967 the plant was producing a powder acceptable for the US market and the Company was faced with the happy problem of having to find new ways to keep up with demand. This resulted in ever more advanced factories being built in Kenya and the US all designed to meet and drive customer demand.
Although Finlays had traded Chinese tea for many years, the Company's first major equity investment came in the early 2000s when, a small stake was taken in Damin, the world's largest extract manufacturer. This has now grown to just short of 50% and furthers the Company's commitment to meeting customer requirements worldwide.
Decaffeination
In response to a growing demand amongst some consumers for beverages which were caffeine free, Finlays began to investigate ways of decaffeinating tea in the early 1980s. Although decaffeination was being carried out in Europe there were no manufacturers in either the UK or the US. At the instigation of Richard Muir, the great grandson of Sir John, and Dr Bill Eyton a suitable site was found in Hull and by 1988 the Company was manufacturing an acceptable product. Today Finlays Hull is still the only tea decaffeination plant in the UK.
Introducing electricity
Whilst the Company's past success may have been attributed to the vision and enterprise of leaders such as Sir John Muir, none of this would have been possible without a number of industry innovations pioneered by a remarkable cast of very able planters/agronomists, engineers and scientists all employed, at one time, by Finlays. Thomas McMeekin, one of the earliest associates of Sir John Muir, invented a mechanical roller and a box firing cabinet whilst George Cole another early pioneer produced a machine designed to crush tea. Although a prototype was made in the Indian High Range in 1911, it was some years after the First World War before another Finlay man, Ian McTear, help turn this into a commercial proposition. Sir John Muir was an early enthusiast for electricity and, acting on his instructions, Cole was the first to install electricity into a tea factory following the construction of several hydro schemes in South India. Another of Cole's High Range successes was the gravity activated grip for the trolleys attached to the cable-ways which transported tea and stores to and from the plains, a concept now used on ski lifts.
McTear joined the Tocklai Research Station in the 1950s where he helped design a system of continuous manufacture to replace the batch process then in place. This resulted in the development of a number of tea machines, including the Rotorvane, all designed for continuous manufacture. William (Bill) Lindsay was another man to leave his mark with the invention of his Lindsay Fermenter which was patented and added to the development of continuous tea production.
The instant tea-volution
Over the years much work has been done in Kenya to improve tea yields by the creation of special clones suited to the growing conditions in Kericho. In the field of science Finlay men Chris Harler, Leslie Cox and Bill Eyton set out solid scientific specifications for ideal tea manufacture which have been translated into practical applications in field and factory. Between them Lindsay and Eyton created an entire instant tea manufacturing process which produced a commercially successful powder. These are but a sample of the many innovations for which, over the years, Finlays have been responsible. Innovation is ongoing and, as explained elsewhere, the Company continues to be a leading player in the development of tea in all its many and varied forms.
References: A brief history of tea – Roy Moxham and Finlays Magazine and the Company's historic archives in the University of Glasgow.
Words: Duncan Gilmour