We investigate how Finlays' connection with humanity through natural beverages goes deeper than you might first imagine.
Quietly, and increasingly at speed, a revolution is taking place in the supply of Chinese tea. China has now started to export quantities of qualified tea that previously had not been thought possible. This transformation is being helped by Finlays, a tea merchant steeped in tradition, yet one proving itself capable of meeting this new challenge. The Company's ability to connect growers to international buyers is allowing a new generation of Chinese tea growers, employing the best of agricultural practices, to obtain value from harvests that otherwise would have gone to waste.
China is the world's largest tea producer, accounting for more than 40 per cent of annual production on an on-going basis. It is also the world's most varied, with hundreds and possibly thousands of varieties of tea being grown. Yet only a small number of these are familiar to tea consumers beyond its borders. To date a limiting factor has been agricultural practice. Unfortunately, the conditions under which tea is grown in the more traditional tea producing areas of China means that only a small percentage is suitable for export. China is also under pressure from domestic consumers to change the way in which tea is grown and manufactured.
A solution to this problem is beginning to be seen in the high hillsides of the southern Chinese province of Guizhou. Here the regional government, concerned with levels of rural unemployment, several years ago began clearing underutilised land for the express purpose of growing tea. Beyond providing employment, this initiative also offered the possibility of introducing good agricultural practices, ones which were not dependant on the overuse of plant protection products. Five years after planting, the first teas are beginning to come to market in some quantity. It is important to remember that in China everything undertaken is on a scale unfathomable in other economies.
As Guy Chambers, Finlays' Managing Director, notes, "After five years the tea produced in that one province is more than in the whole of Kenya which is the third largest producer in the world."
Finlays has been tracking developments in Guizhou for several years noting that farmers were only able to sell the first flush of each year's spring tea to domestic buyers. Each season as many as three further flushes were left unharvested due to an inability to identify buyers.
To meet this challenge, Finlays has built a secondary processing plant in Sinan and recruited a team of young Chinese scientists who have been tasked with guaranteeing tea quality by working with local tea growers to ensure that good agricultural practices are the norm. Crucially, in connecting growers with markets, Finlays has insisted on traceability and transparency to ensure that international buyers can be certain that what they're purchasing is qualified tea. This promise is being backed by independent external audits, the objective of which is to have all growers supplying tea to Finlays routinely audited, and their field practices approved, by Rainforest Alliance.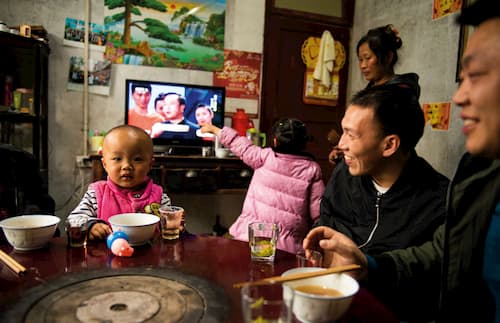 Creating sustainable relationships
As a vehicle for this project James Finlay Guizhou (JFG) was set up in the spring of 2018 having recruited Patrick Watene, a New Zealander with 15 years' experience working with agri-businesses in China, as its Managing Director. Watene is well aware of the what is needed to ensure success. "Obviously we prefer to take tea that has not been subject to use of pesticide or herbicide," he says. "But the key thing for us is making sure that it's qualified and meets the customer's specification and the requirements for market access."
Watene has had a busy year. His accomplishments include building from scratch a management team with the necessary capabilities. "We have a very young team in Guizhou which is a reflection of the environment that we are in and I think it's very good for the future of the business." says Watene "We have a lot of very capable managers who will, I think, be really 'long-termists' provided we continue to give them opportunities and challenges."
Part of the project involves JFG building a secondary processing plant, which is projected to begin production in April 2019. Perhaps most importantly, a sourcing and supply model has been introduced which differs from that which Finlays uses in its other key producing areas where the Company both owns land and buys in tea from outgrowers. Guizhou is the first instance where a Finlays' tea processing factory relies solely on outgrowers, rather than owning and operating land in conjunction with a tea factory. Instead it is partnering with a number of small to medium sized farmers.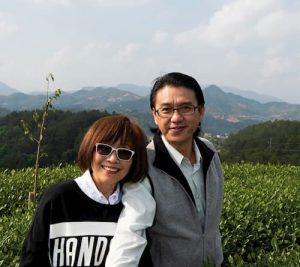 It is hoped to nurture this new crop of tea growers, acquainting them with Finlays' best agricultural practices from around the world. These include the introduction of machine harvesting, help with deciding on the optimal use of
fertilizers, herbicides and pesticides and the application of environmentally friendly alternatives such as pest catchers. The objective is to keep pesticide use to an absolute minimum, thus reducing environmental impact whilst still allowing tea farming to occur productively. This is aided by the Guizhou terrain. The tea fields are at altitudes, high enough to ensure that the climatic conditions help reduce or eliminate the need for pesticides.
Watene is optimistic that strong commercial partnerships can be created and sustained with tea growers. "When you are building up this type of business you want partners to be in there with you, so you have to provide the right incentives and understand their aspirations whilst we are trying to achieve ours."
The here and now: Tea industry in China
For Finlays' customers interested in making use of qualified tea sourced from China, they have the benefit of the Company's world-wide reputation further reinforced by the assurance of an external audit undertaken by Rainforest Alliance.
JFG recently staged its first annual suppliers conference in Sinan, which attracted 45 representatives from 27 tea suppliers. Watene reports that out of this group, 21 have fully committed to Rainforest Alliance training. The intention is to have them audited by the end of April. As a result, the vast majority of made tea from Sinan, mainly green and black fannings, will come from Rainforest Alliance accredited producers. Production is expected to increase significantly over the next five years. To make this possible, the number of growers who partner with JFG are expected to increase to around 60, all committed to supplying properly accredited tea. All Guizhou suppliers are expected to be Rainforest Alliance certified within their first year of supply.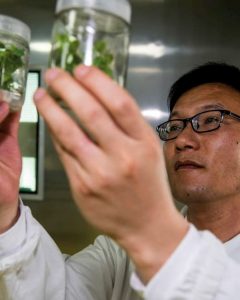 The tea growers' farms vary in size, from around 60 hectares up to 200 hectares. Watene observes, "These are enterprises that are of a reasonable scale but in the broader tea industry in Guizhou and other provinces, they are small holders."
A robust quality control function ensures that tea destined for both foreign and domestic markets is fully tested and assured as qualified tea. "Nothing goes out the door unless it's been tested by an internationally certified laboratory. It must meet customer specifications and market access requirements. Those two things are non-negotiables." says Watene.
JFG's quality assurance team also monitor the tea as it grows on their partners' farms. As an example, by using hand held devices, real time reports can be produced which detail the extent of pesticide use. Data collection is not just about compliance but is intended to offer benefits for both tea grower and tea merchant. As Watene observes, "The more we know, the more we can help. And that all comes down to data."
Vast future potential
Guizhou has the potential to transform the way tea is grown, processed and brought to market. Given the size of the Chinese tea market this could have significant consequences for the way in which tea is cultivated in the country more generally. With this in mind, JFG has made provision for a possible scaling up of production. It's modular and additional processing lines can be easily added as required. Watene notes that Guizhou has hundreds of farmers with whom Finlays could arrange partnerships, unlocking additional hectares of virgin land with tea-growing potential. He elaborates, "I always talk about 20,000 tons plus. My own opinion is that it could be significantly more as this type of sourcing and supply model gives huge opportunities for scalability."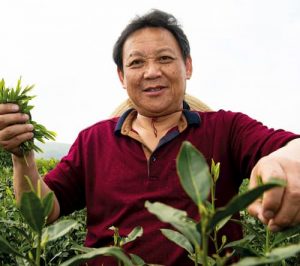 The story of Chinese tea isn't just about volumes it is very much about varieties of tea, many of which are, as yet, unavailable outside the country. With a certain wry admiration, Finlays' Managing Director Guy Chambers notes that China is centuries ahead of the rest of the world in terms of developing tea varieties. Imagine, if you will, 1,600 varieties of oolong tea alone. He uses the analogy of a vast library, one where because of agricultural practices the only book checked out by the West related to black tea "The way forward is to go back to the library and take out another book," he says. "You can spend a lifetime just finding out about the existing varieties in China." Like Watene, Chambers believes that the potential for scaling up Chinese tea production in Guizhou is well beyond the initial conservative business plan projections. He estimates that current production in Guizhou is between 400,000 and 500,000 tons annually.
Imagine, if you will, Finlays not so much as a tea merchant but as a librarian.
With what's underway in the tea-growing hills of Guizhou there's potential to bring to market new books, new stories: not only about well-known black and green teas but potentially many other varieties. Finlays has the ability to make this happen by bringing together tea growers with otherwise inaccessible buyers. "For farmers in Guizhou, Finlays act as a connector," affirms Chambers "Enabling them to access both domestic and international markets".
There you have it – traceability, transparency and scalability of Chinese tea are all in the offing thanks to Finlays – tea merchant to the world and now, a librarian of Chinese tea varieties. For tea aficionados worldwide, potentially a very exciting future.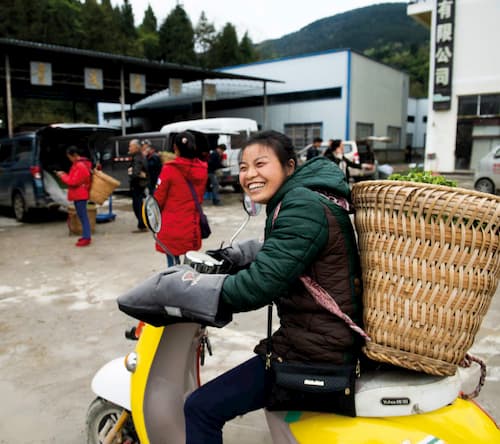 Photography: Giulio Mazzarini