If you previously enjoyed our story about the rise of tea and coffee in cocktails, you can now put the theory into practice with these two recipes specially prepared for Finlays by Elliot Ball, Co-owner, Manager and Bartender of The Cocktail Trading Co – one of the UK's most esteemed and experimental bar businesses.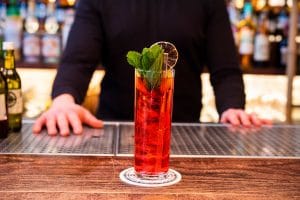 FINLAYS HARD ICED HIBISCUS TEA COCKTAIL
A tea infused gin cocktail with a perfect blend of sweet and sour with the added aroma and mouthfeel from carbonated tea.
INGREDIENTS
100ml hibiscus tea, chilled until very cold
25ml seasoning syrup (recipe below)
25-50ml gin (depending on how strong you want it)
A few sprigs of mint and slice of lemon to garnish
4 coffee beans (optional)
METHOD
To make the seasoning syrup, place 500g caster sugar in a small saucepan, add 250ml water and place on a low heat, stirring constantly until dissolved
Carbonate the tea using a Soda Stream, only filling the bottle 1/3 full to ensure it doesn't fizz over. If you don't have a Soda Stream, you can use 50ml chilled tea and 50ml soda water.
Then add 10g citric acid powder (available from pharmacies and online) and 5g of sea salt, stirring until dissolved. Take off the heat and then cool. The syrup will last a month in the fridge.
Build your hibiscus tea cocktail. Fill a tall glass with cubed ice and add the gin, syrup and carbonated tea. Stir gently and garnish with a slice of lemon and a sprig of mint.
This is a versatile recipe and you can experiment by combining different types of tea with different spirits. Think rooibos with spiced rum or jasmine tea with whiskey.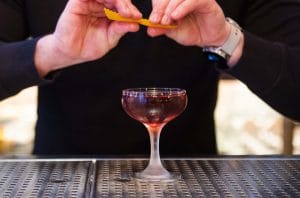 COLD BREW COFFEE COCKTAIL: THE COLD BREW-LE-VARDIER
A cold brew coffee cocktail bringing a caffeinated twist on the classic Boulevardier. Cold brew pairs perfectly with anything aged in wood, complementing the vanilla and spice notes and adding a bitterness to balance the astringency.
INGREDIENTS
40ml bourbon
20ml sweet vermouth
15ml Campari
35ml cold brew coffee
Orange peel to garnish
METHOD
Fill a large mixing glass with cubed ice, add all the ingredients and stir very well until super chilled.
Strain into a chilled coupe or tumbler, and garnish with orange peel.
All images courtesy of Giulio Mazzarini