Liu Renjun, a Quality Inspector at James Finlay Guizhou, has been honoured as a "National Role Model Worker" – one of the very highest honours workers in China can achieve.
Liu was one of only 1,689 people in the whole of China to receive this honour at the National Role Model Workers and National Exemplary Individuals Commendation Conference in Beijing in November 2020. The conference was attended by President Xi who delivered an important speech and met with the winners.
The National Role Model Worker honour is only awarded every five years, making it as exclusive as it is prestigious. In receiving this award, Liu has brought a high degree of recognition to Guizhou Province, to Finlays in China, and to the Swire Group.
At James Finlay Guizhou, Liu is a core member of the Quality Assurance and Product Development team and is responsible for the quality assurance of daily production as well as making blending plans and developing new products.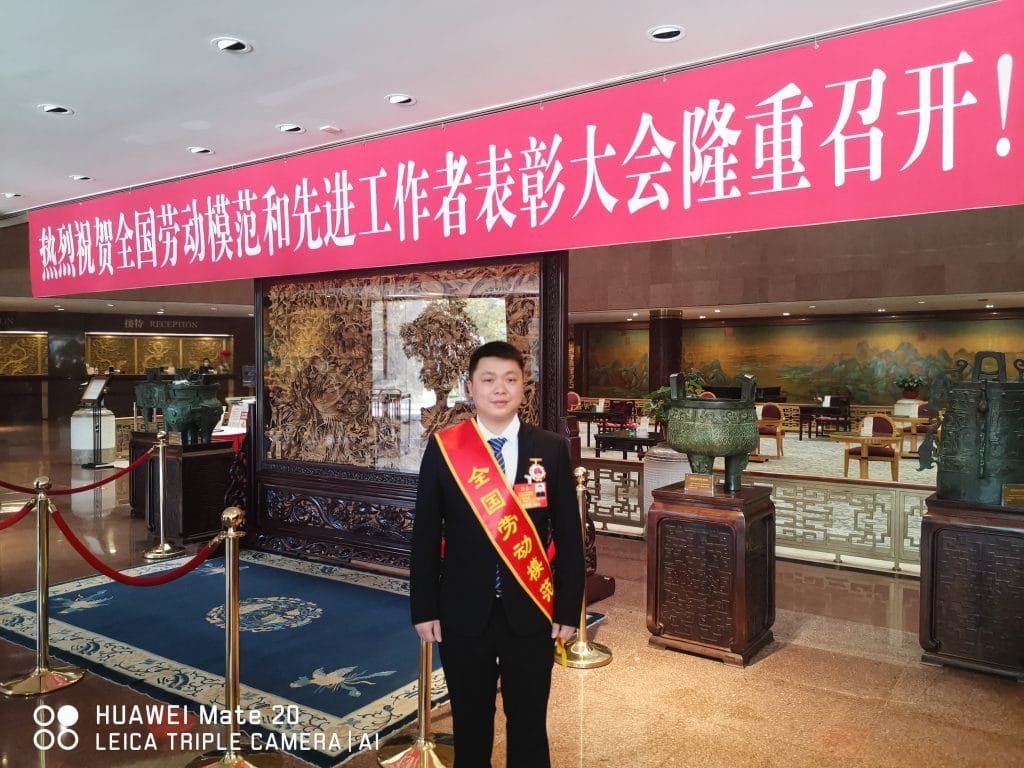 To find out more about Liu, we sat down with him to find out more about his background, his role at James Finlay Guizhou and how he came to become a National Model Worker.
Why did you choose tea processing as your career?
It was a coincidence. When I was in school, I wasn't good at studying, so I knew I must learn a technology to earn a living. At that time, the Guizhou government had a policy to support tea development, and most places including Sinan were reclaiming wasteland for tea planting. Looking at those tea gardens and factories built one after another, I thought there must be a great demand for technical personnel of tea. So, I began the journey of tea producing.
When did you join James Finlay Guizhou?
I joined in 2017. As a Sinan local, I knew it was an excellent opportunity, not only for myself, but for extending tea development of my hometown. Finlays provides a platform to use my strengths and provides a great sense of achievement and satisfaction.
James Finlay Guizhou uses a unique model based around building long and trusted relationships with small-and-medium-scale tea farmers and processors. When I first joined, as a local who was familiar with local environment, I often went out by motorbike to contact and find new suppliers. Within half a year, the mileage of my motorbike exceeded 22,000 km. Working with our Managing Director Patrick [Watene], we established close contacts with fifty to sixty suppliers by 2018 from a small quantity at the beginning. It's a great honor to witness the company start from scratch and involve in its growth and expansion.
Please tell us more about what it's like to be a tea taster.
It's not always easy, but as I love what I'm doing that's OK. Just like drinking tea which is first bitter, then sweet, my effort and hard work gets rewarded. Becoming a member of Finlays, I not only have an interesting job, but a broad platform to develop and apply what I've learnt. At Finlays, I have many capable colleagues and have learnt lots from them.
You have already won many awards for your skill. Which are you most proud of?
Over the years, I have participated in many competitions and won several awards. The one I'm most proud of is the Guizhou Skills Competition of Handmade Tea, where I won the first prize in green tea (Oolong). It was a fierce contest, with lots of participants and lots of tea masters. I had a strong desire to show what I have learnt, but made a small mistake during the "yaoqing" (a critical process of making Oolong tea). However, I didn't give up and knew I still had chance to win if I corrected it properly. When the final tea sample came out, I smelt and tasted a grain of dry tea, and I felt a huge surge of relief.

How do you define the qualities of tea from Guizhou Province?
In my view, "cleanliness" is the calling card of Guizhou tea. This is for four main reasons:
First: Guizhou's unique geographical and climate conditions are suitable for growing clean tea.
Second: the modern tea industry sprang up in Guizhou around 2008, which means it has more development potential than other areas. At present, Guizhou boasts the largest tea planting areas over the country, and its new tea gardens are mainly managed by enterprises other than individual tea farmers, that means the tea gardens are controlled uniformly, high-efficiently and standardly.
Third: the local government advocates "clean tea". To achieve this goal, it provides guidance and implements stringent measures to ensure food safety.
Finally, as well as JFG, there are many tea enterprises over the country or the world entering Guizhou for its large tea planting areas and low-pesticide products, producing green and organic tea has become a common sense among farmers and a business opportunity for them.
I believe, in the future, JFG will continue to exert its strength to make customers over the world to taste the wonderful flavor of our Guizhou tea.
Do you have personal unique standard while producing or selecting tea?
Producing or selecting tea should be based on personal professional knowledge. Only if you are professional and competent, can you make products that meet requirements. For a tea producer, it's impossible to produce high-quality product without the pursuit of excellence.
What changes do you think have been made to the local development since Finlays came to Guizhou to build the plant?
As a Sinan local, I witnessed the enormous benefits brought by Finlays to on wider society. After James Finlay Guizhou was established, it built stable and long-term partnerships with local suppliers and sourced a great deal of natural and pollution-free tea from them, promoting the development of tea industry at Sinan.
Meanwhile, the company offered extensive training on tea planting, including integrated pest management with the goal of "no pesticides", smart-tech application and guidance on increasing yield on this basis of good quality and sustainable development. All of these improved planting technology and broadened horizon.
The company also has made great contribution to alleviating poverty in the local area. As I know, several colleagues of mine come from poor families who have been registered in the National System of Poor Alleviation. Finlays offered a stable work to us in hometown and helped us shake off poverty. Up to now, many local tea enterprises have become our suppliers, which has led more local tea farmers to lift themselves out of poverty successfully and embark on the road to wealth with tea.
What are your plans for your future? What do you expect from the company?
I know there's a long way to go in my career, but I have already spent many years in tea, I suppose the future theme of my life should not be without "tea". Tea producing is both a hobby and a career for me.
I know I'm still a long way from the experienced tea master. In the future, I'll continue to study, explore my career here and grow with Finlays together. I also hope our Guizhou tea to go out mountains to the world through the Finlays network. I also hope to be provided an opportunity to visit Finlays' other tea farms and share and learn experience mutually with my peers there.