Long-term partners, Finlays and Starbucks collaborate on empowerment and development with communities in Kenya and Sri Lanka.
Starbucks has been a customer of Finlays for many years, and recently the relationship has been strengthened to include projects designed to empower and develop the potential of communities in Kenya and Sri Lanka.
Like Finlays, encouraging sustainable business and developing people are two of Starbucks' core values. Their mission is to 'inspire and nurture the human spirit – one person, one cup and one neighborhood at a time' an aim which applies throughout their supply chain from suppliers to customers.  As one of these suppliers, Finlays wholeheartedly buys into this mission and Starbucks' 'pursuit of doing good'.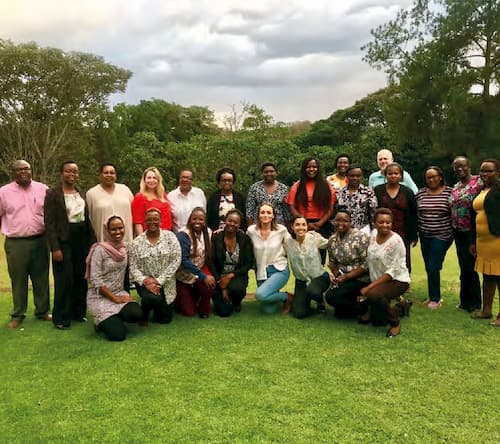 At Finlays our mission is to 'connect humanity through natural beverages. Combining tradition and innovation to create a healthier, happier and better world by bringing the best from bush to cup.' In pursuit of this, Finlays is committed to creating a Sustainable Future supported by the adoption of, and a commitment to, six strategic objectives and targets as explained on page 76. These include Finlays' belief in providing local communities with help to empower them to make a positive impact on the issues which affect them.  This includes a commitment to gender equality in the workplace. Finlays currently supply Starbucks with tea from six different tea growing regions and has recently started sustainability related projects in two of these, Kenya and Sri Lanka, both of which are being supported by Starbucks. The projects have been designed in collaboration with Starbucks and targets issues which are important to the communities concerned.
Crucially, funding is coming directly from the sale of tea, providing further opportunities for the projects to grow and the people involved to prosper.
In Kenya, a project has been set up with two separate components; management training and entrepreneurship training. Management training seeks to address gender inequality through the development and empowerment of young women to enable them to take on management positions or more responsibility. Entrepreneurship and vocational skills training is being provided for disadvantaged people living and working on James Finlay Kenya's tea farms with the aim of giving them the necessary skills to allow them to become economically independent.
The management training module was launched in Kenya in February 2019, during a visit from Starbucks to Finlays' tea farms in Kericho. Speaking during the launch, James Finlay Kenya's Managing Director, Simeon Hutchinson reiterated the Company's commitment to an inclusive workplace and an increase in women representation in the Company's management team noting that this had risen from 2% in the 1990s to the current 25% and rising.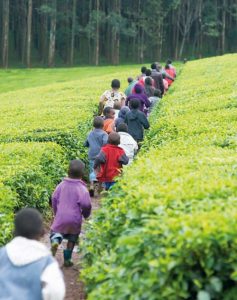 The event was attended by representatives from Starbucks including Starbucks' Mattea Fleischner, Head of Sustainability, Zoe King, Tea Buyer (East Africa, Argentina) and Doug Langworthy, Quality Assurance Manager Tea and Botanicals. Finlays' attendees included Rachel Jones, Global Accounts Director and Michael Thiongo, Leaf Tea Operations Manager. Also present were representatives from the Kenya Institute of Management who also helped with the project and members of James Finlay Kenya's management.
In Sri Lanka, our partnered project focuses on community development where Finlays has a long and successful history of implementing impactful sustainability initiatives as well as fostering positive community relations. The Company was the first in Sri Lanka to have one its tea farms receive Rainforest Alliance certification; now all our farms are accredited.
Youth volunteer groups are being set up as part of a project which will train and develop the skills of 58 volunteers to be 'change agents' in their communities to address issues such as waste and water management, health, hygiene, and community cohesion. By focussing on young women, we also hope to further address issues of gender discrimination and inequality as well as skills development. This project is due to run throughout 2019.
We very much value what we hope will be an enduring relationship with Starbucks.
Words: Jo Millar